Digital light synthesis (DLS) shows that
3D Printing
is ready for mass production.
Carbon has demonstrated a powerful demonstration of mass production of the parts it creates through DLS.This month, the company unveiled a larger L1 3D printing system to create a midsole for adidas's FUTURECRAFT 4D shoe, now an athlete's helmet pad for Riddell.Last month, Carbon and Ford launched an auto parts partnership.
Lamborghini Urus fuel cap, produced digitally using EPX 82 epoxy resin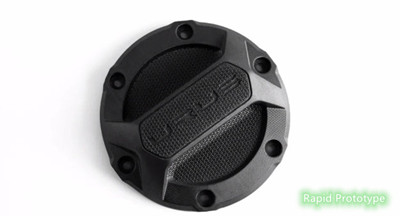 With another announcement, Carbon is back in the driver's seat today.
"The automotive industry shows great promise in bringing mass production to digital production, and our partnership with lamborghini is the perfect example of the innovation that can be achieved when design, manufacturability and engineering are integrated," said Dr Joseph, Carbon's chief executive and co-founder.
Lamborghini is synonymous with luxury.The Italian supercar company introduced the Urus, its super SUV, last year and is now launching its first production component using DLS technology.These initial attempts were a textured fuel cap and an air duct clip assembly, because it has been proven that it can be made with 3D printing.
"Through our extensive procurement research, we have found that many vehicle parts are ideal for digital manufacturing," said Stefan Gramse, lamborghini's chief procurement officer.
Lamborghini, in close collaboration with Volkswagen's electronics research laboratory, is working on "many parts within the vehicle" of digital manufacturing that will be redesigned for new production methods.
Like the first digital polymer parts made by ford, lamborghini's first DLS parts were made from carbon fiber epoxy resin (EPX) 82.The resin has proven to be an important asset for manufacturing applications, with high strength and durability, light weight, ability to withstand high pressure and operating vehicle temperatures.Knowing its production value, EPX 82 was one of the resins that Carbon lowered its bulk pricing in a major move a few months ago.
Automotive applications are becoming a major market for 3D printing.3D printing has been used in the automotive industry for decades, but is often seen as a competitive advantage and not talked about publicly.For decades, however, it has been helping auto oems who do recognize and take advantage of advanced technology.In particular, we can look forward to additive manufacturing expands into tool and prototype manufacturing applications, as well as large-scale production of parts that everyday drivers (and everyday and super car drivers) will come into direct contact with.
This article is from the network, the copyright belongs to the original all, if there is infringement, please inform to withdraw.